Also known as full mouth rehabilitation. Patients who have lost all their teeth or who have loose and moving teeth very soon becoming completely edentulous ( loss of all teeth) need replacement of all teeth.
Why need implant supported full mouth teeth: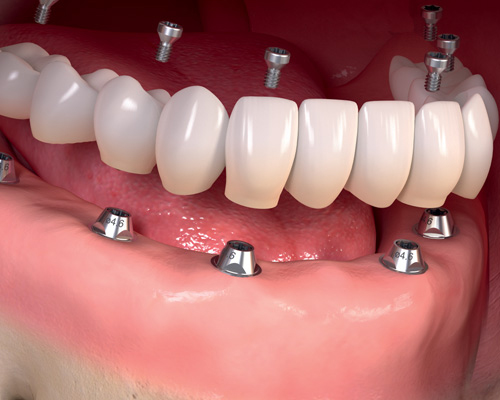 Patient without teeth makes chewing food impossible
Reduced jaw bone can make patients face look older and wrinkly. The cheeks become hollow and spongy because they can no longer fully stabilise without teeth.
Some patients who are already using removable complete dentures have drawbacks like


Hassle of removing the denture during night and putting them back in the mouth in the morning after washing
Removable dentures gradually become loose due to bone resorption. Hence need to fabricate dentures frequently.
Food lodgement and foul smell
Patients with gag reflex (tendency to vommit) cannot keep the dentures in the mouth.
Dentures can fall and break ,can be lost.
Psychologically not satisfying.
Hence implant supported full mouth replacement is the best method of replacing all the missing teeth.
The are different options of implant supported fixed teeth for patients who need full mouth replacement depending on the clinical situation and patient needs.
6 implants with 14 teeth in each jaw. (All-on 6 concept)
5 Implants with 12 teeth in each jaw
4 implants with 12 teeth in each jaw ( All-on 4 concept)
Patients who are already using removable complete dentures, in due course of time denture supporting bone undergoes resorption hence the dentures begins to move, becomes unstable and hence very uncomfortable to wear and chew food. Sometimes dentures slip and fall out during eating and speaking.
Such patients have 2 options:
Patients can choose implant supported fixed teeth (with the options mentioned above)
Patients due to financial reasons may not choose for more implants.
The best option is the existing loose denture can be made more stable by fixing with just 2 or 3 implants in each jaw. Patient can easily detach the denture set in the night and wear it in the morning
Benefits :
Patient gets the feeling of using fixed teeth.
Teeth set is very stable during eating and speaking
Reduced cost
Less surgical intervention
Retains the facial form and structures.
Dr. Lokesh uses unique implants and in many of such cases the implants are placed and the teeth set is fixed to the implants in the same appointment without any waiting period.
Dr.Lokesh strongly recommends not to use ill-fitting dentures as they cause ulcers under the teeth set and bone resorption at a faster rate.