Bone grafting is addition of bone or bone like material in an effort to increase the volume of deficient bone in the jaw providing strong foundation for the implant placement.
There should be adequate bone to support implants and hold them securely into the jaw bone.
As a general guideline at least 1 mm of bone should be required around a dental implant. If the bone is not sufficient to envelope the implant, then bone graft is required.
Conditions leading to insufficient bone for implant placement: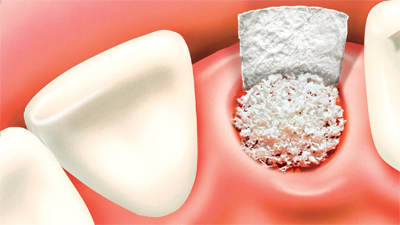 Gm disease
Spaces left empty in the mouth for long duration after teeth removal
Wearing removable dentures long term
Injury to jaws
Lesions like cysts and tumors
Types of bone grafts:
Autograft: Bone used from patien'ts own body
Allograft: Bone from individuals of same species ( eg: humans)
Xenograft: Bone from different spiecies (animals)
Alloplastic ( Synthetic) A synthetic biocompatible material
The type of bone graft selected depends on the situation and the amount of bone required.
Timing of bone graft:
Depending on the clinical situation, bone grafts may be placed at the same time as implant.
Sometimes Implants will be placed 3 or more months after the bone grafting depending on the location of the graft and the density of the bone
Generally in case of small bone defects, alloplastic bone grafts are placed alone or it is mixed with autograft
If there is a large bone defect, blocks of bone can be harvested or obtained from the patients own body like from the chin region, back portion of the lower jaw below and behind the wisdom teeth, upper jaw behind the wisdom teeth etc.
Harvested blocks of bone is fixed onto the deficient bone using small titanium screws. It is allowed to heal for 3 or more months and then the implant/s are placed.
Other grafting procedures:
Sinus Grafting
Ridge expansion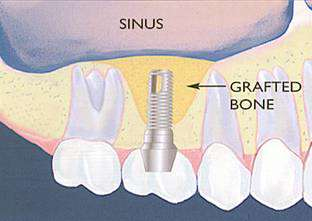 Sinus grafting :
When the back teeth in the upper jaw are missing for long period Maxillary Sinus cavity ( air filled cavity present on either side of the upper jaw) becomes larger that results in reduced natural bone in this region for implant placement.
Sinus grafting procedure involves adding bone below the sinus so that after 4 to 6 months adequate bone will be formed for placing implants. This is a very safe procedure and doesn't affect patients speech, intonations or cause speech problems.
Ridge expansion/Ridge augmentation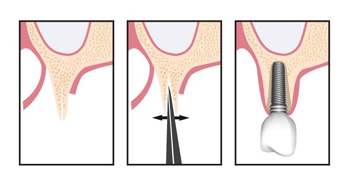 Alveolar bone should be adequately wide enough to support implants. If not , width of the alveolar bone can be increased by splitting and expanding the bone. Bone graft is added between the split bone fragments.
Many times Implants may be placed right after the ridge expansion. In some cases implants are placed 4 to 10 months to ensure that the bony ridge has sufficiently healed.